"DEVELOPMENT OF ADVANCED CATALYTIC PROCESSES REMOVING HYDROGEN SULFIDE AND AMMONIA FROM COAL CARBONIZATION"
July 2000-March 2001
Fe-based catalysts of different geometry are developed for the purification of coal carbonization gases: bulk, supported spherical and supported monolithic catalysts.
Adsorption and decomposition of H2S reaction were studied on bulk Fe2O3 catalyst and Fe(NH4)3 (C2O4)3·3H2O salt was chosen as the best starting material to be used for the synthesis of supported catalysts. Fe-containing catalysts supported on alumina show highest level of activity in H2S decomposition process compared with Fe-containing catalysts supported on ZrO2 and SiO2. It was found that modification of Fe-containing catalysts by Mn and Mo leads to the decrease of the catalyst activity.
Monolith catalysts synthesized show superior activity in de-H2S process over bulk and spherical catalysts when reaction rates of H2 formation related to 1 g of Fe introduced are compared, It was revealed that monolith catalysts demonstrate stable operation in ammonia decomposition process during 2 hours at 900 oC giving 100% ammonia conversion.
Monolith catalysts showed stable operation in purification of real COG.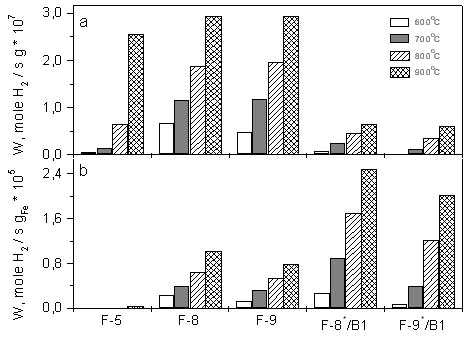 1. Histogram of reaction rates of H2 formation related to 1 g of the sample (a)
and reaction rates of H2 formation related to 1 g of Fe in the sample (b)
for Fe-containing catalysts of different geometry calcined at 600oC:
Bulk:
F-5 (Fe2O3);
Supported spherical:
F-8 (2.9%Fe/gamma-Al2O3),
F-9 (4.1% Fe/alpha-Al2O3);
Supported monolith:
F-8*/B1 (10%[80% F-8 + 20% gamma-Al2O3]/B1),
F-9*/B1 (10%[80% F-9 + 20% gamma-Al2 O3]/B1).
B1 - monolith support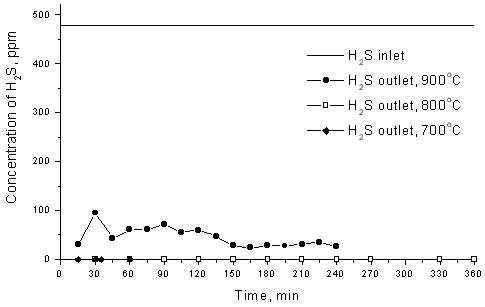 2. Activity tests of supported monolithic catalyst (F9*/B1)
at different temperatures in COG purification reaction.
COG mixture having the complicated composition (H2 - 50 vol.%, CH4 -25 vol.%, CO - 6 vol.%, CO2 - 5 vol.%) was saturated by 478 ppm of H2S for activity tests.