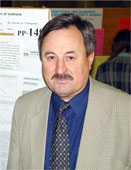 ISMAGILOV Zinfer Rishatovich
(15.10.1947, Bashkiria, Russia)
Positions
Head of Laboratory at Boreskov Institute of Catalysis, Novosibirsk (since 1982)
Leading Scientist at Novosibirsk State University
Education, Scientific Degrees and Titles
Graduated form Novosibirsk state University, Chemistry (1969)
Candidate of Science (PhD), Institute of Catalysis, advisor G.K.Boreskov (1974)
Doctor of Science, Boreskov Institute of Catalysis (1988)
Professor, Certificate from Russian State Attestation Commission (1991)
Corresponding Member of RAS (2011)
Publications:
More than 680 publications including 161 papers in international peer reviewed Journals, citation index 1060, h-index 15. (20 July, 2010)
Appendix 1, a list of publications (50) over the last 5 years
Number of Russian patents - 127
Appendix 2, a list of patents (23) over the last 5 years.
Appendix 3, a list of most significant 10 publications.
Teaching and research at Russian and Foreign Universities
(Additional information for this and upcoming paragraphs of CV are presented in "Appendix 4)
1978-1979, Invited Scientist at Rice University, research project on tellurium nanoparticles in zeolite structure, dehydroaromatization, Houston, Texas, USA
1977-1989, Lecturer, Associated Professor at chair of physical chemistry, Novosibirsk State University
1979-1982, first Deputy Dean of Faculty of Natural Sciences, Novosibirsk State University
1992, NATO Professor Fellowship at Louis Pasteur University, Strasbourg, France
1993, Invited Professor at Northwest University and Batelle, Pacific Northwest national Laboratory (PNNL), Richland, Washington, USA
2008, Lecture series for PhD course at Al-Farabi University, Almaty, kazakhstan
2010, Lecture series for PhD course at Al-Farabi University, Almaty, Kazakhstan
Main Research Areas
Heterogeneous Catalysis, Isotope Methods in Catalysis, Mechanisms of Catalytic Reactions by Physical Methods, Catalysis for Environmental Protection, Catalysis for Hydrocarbon Processing and Coal Chemistry, Catalytic Hydrodesulfurization, Catalytic Combustion, Technology of Alumina Supports and Catalyst Production, Technology of Monolithic Supports and Catalysts, Processing of Mixed Organic Radioactive Wastes and Utilization of Propellants, Carbon Nanofibers and Nanotubes, Fuel Cell Catalysts, Catalytic Membranes and Microreactors, Nanosized Oxides and Metals in Catalysis and Nanobiomedical Applications.
Management of projects in frame of Russian State Federal Programs
Successfully acomplished State contracts № 046/264 (RAS), № 054 (RAS), № 02.435.11.5004 (Rosnauka)
Current State contracts № 02.512.11.2081, № 02.526.12.6003, № 9208.1007900.13.1100.
Mangement of International and Russian Networking Projects
9 projects of International Science and Technology Center, ISTC
7 projects of The Netherlands Organization for Scientific Research,
2 European projects COPERNICUS
4 European projects INTAS
3 projects of Japanese New Energy and Industrial Technology Development Organization, NEDO
10 grants of Russian Foundation for Basic Research, RFBR
More than 15 projects in the Program of Interdisciplinary and International Research of Siberian Branch of Russian Academy of Sciences with institutes of Azerbaijan, Belarus, Kazakhstan and Ukraine.
Graduate Advisor and Thesis advisor
Approximately 30 students for BS and MSc degrees.
Successfully defended 18 PhD and 2 Doctor of Sciences theses.
Currently 4 Doctor of Sciences and 2 PhD theses are ready for defense.
There are 3 undergraduate and 2 PhD students.
Membership
RAS Scientific Council in Catalysis
RAS Scientific Council in Chemistry of Solid Fossil Fuels and Renewable Hydrocarbons.
SB RAS Joint Scientific Council in Nanotechnologies and Informatics.
SB RAS Joint Scientific Council in Chemistry
Scientific Council of Boreskov Institute of Catalysis.
D 002.13.01 (1999-2004)
Editorial Boards
International Advisory Board, Encyclopedia of Catalysis, Editor- in-Chief Istvan T.Horvath (2002)
Advisory Board, RSC Catalysis Book Series, Editor J James Spivey, 2008
Applied Catalysis B Environmental (1998-2002гг.)
Eurasian Chemico-Technological Journal (since 2000 г.)
Combustion and Plasmochemistry, Almaty, in Russian (since 2003)
Guest Editor, Catalysis Today v. 51, issues 3-4, 1999
Guest editor, Catalysis Today v. 144, issues 3-4, 2009
Chemistry for Sustainable Development, Deputy Editor-in-Chief ( since 2009)
International Scientific Journal of Alternative Energy and Ecology ( since 2007)
Journal of Siberian Federal University, Krasnoyarsk, in Russian (since 2008)
Management of industrial commercialization
Monolithic supports and catalysts, 1990, Perm, Russia
Production of the catalyst for alkylation of benzene, 1992, Aktau, Kazakhstan
Demonstration plant for fluidized catalytic processing of liquid radioactive wastes, 1994-1996, Novosibirsk, Russia
Catalytic heaters, 1992-2010, Novosibirsk, Russia
Demonstration plant of hydrogen sulfide removal, 2005-2010, Bavly, Tatneft, Russia
International activities
Chairman and member of organizing committees and participation in numerous international conferences.
Plenary lecture, oral and poster presentations at International Congresses on Catalysis in Tokyo (1980), Calgary (1988), Budapest (1992), Baltimore (1996), Granada (2000), Paris (2004), Seoul (2008);
European Congresses on Catalysis in Maastricht (1995), Krakow (1997), Rimini (1999), Limerick (2001), Innsbruck (2003), Sofia (2005), Turku (2007), Salamanca (2009);
International and European Congresses on Environmental Catalysis in Pisa (1995), Miami (1998), Maiori (2001).
European Material Research Society (EMRS) and International Union of Material research societies (IUMRS) meetings and Conferences.
Invited opponent for thesis defense and member of PhD graduation committee of a number of foreign universities ( Utrecht, Twente, Turku, Oulu, Al-Ain etc.)
Invited for evaluation of projects and application forms of Western scientists for senior positions.
Approximately 50-60 lectures at Western Universities, National Laboratories of USA and R&D Centers of Industrial Companies.
Prizes and Awards
1993 - Diploma of excellence of the Siberian Branch of Russian Academy of Sciences
1999, 2007 - Diploma of excellence of Russian Academy of Sciences
1999 - Merited scientist of Russian Federation from President of Russia
2005 - Academician Koptyug prize from Russian Academy of Sciences
1995, 2000 - Medals of All-Russian Science and Technology Exhibition
1997 -Medal of Eureka Exhibition, Brussels
A number of awards of Russian Mendeleev Chemical Society
Business training
The Special American Business Internship Training Program (SABIT) with Battelle, United States Department of Commerce, March – May 2003.
Business Communications and Marketing Skills, University of Arizona in Tucson and Lawrence Livermore National Laboratory (LLNL), October 29- November 4, 2006.