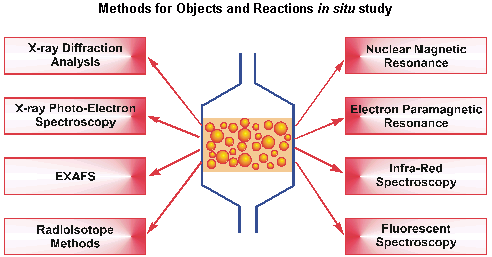 Unique methods and possibilities
Multicapillary chromatographic column (MCC) allows to accelerate the substances separation by a factor of tens and hundreds. On the basis of MCC high performance express devices have been already developed and successfully run.
Differential dissolution phase analysis makes it possible to estimate at the qualitative and quantitative level the composition of complex multiphase samples using no individual phase references. It is applied for phase and microphase analysis of solid inorganic crystalline and amorphous substances.
Strength of acid and base surface sites is defined by probe-molecules IR spectroscopy.
For the first time in NMR practice the original methods of MAS spectra recording for sealed samples under controlled atmosphere conditions have been developed. They allow carrying out in situ experiments under catalytic reactions conditions including molten states.
Analysis of NMR spectra of solids with definition of the parameters for all types of interaction. This allows to describe with a high accuracy NMR spectra and define the local nucleus environment.
X-ray amorphous objects are studied by EXAFS: the structure of their volume, surface and near the surface layers. The BIC specializes in the study of highly dispersed objects – catalysts and nanomaterials and it is a manager of the unique EXAFS station.